EMD F7-A
Baltimore & Ohio
No. 3219 -Powered w/Flywheel
No. 3119 -Powered
No. 3019 -Dummy
EMD F7-A
Burlington Northern
No.3211 -Powered w/Flywheel
No.3111 -Powered
No.3011 -Dummy

EMD F7-A
Chesapeake & Ohio
No. 3227 -Powered w/Flywheel
No. 3127 -Powered
No. 3027 -Dummy

EMD F7-A
Denver & Rio Grande Western
No. 3215 -Powered w/Flywheel
No. 3115 -Powered
No. 3015 -Dummy
EMD F7-A
Milwaukee Road
No.3217 -Powered w/Flywheel
No.3117 -Powered
No.3017 -Dummy
EMD F7-A
Pennsylvania -Freight
No. 3207 -Powered w/Flywheel
No. 3107 -Powered
No. 3007 -Dummy

EMD F7-A
Pennsylvania -Passenger
No. 3205 -Powered w/Flywheel
No. 3105 -Powered
No. 3005 -Dummy

EMD F7-A
Santa Fe (Freight)
No.3203 -Powered w/Flywheel
No.3103 -Powered
No.3003 -Dummy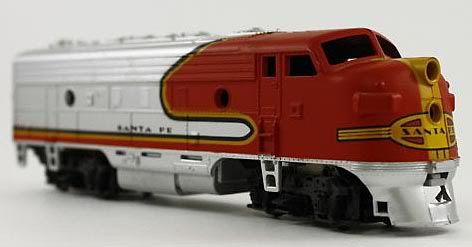 EMD F7-A
Santa Fe (Passenger)
No.3201 -Powered w/Flywheel
No.3101 -Powered
No.3001 -Dummy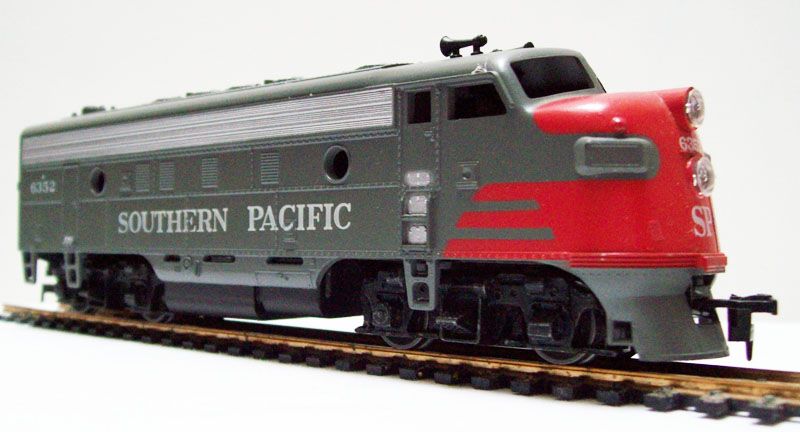 EMD F7-A
Southern Pacific
No. 3209 -Powered w/Flywheel
No. 3109 -Powered
No. 3009 -Dummy

EMD F7-A
Southern Pacific Daylight
No. 3235 -Powered w/Flywheel
No. 3135 -Powered
No. 3035 -Dummy
Athearn's Daylight painted F7-A lettered for Southern Pacific and carrying roadnumber 6441 has no prototype. The only Daylight dressed F-unit was the Cotton Belt FP7 #306.
EMD F7-A
Union Pacific
No.3213 -Powered w/Flywheel
No.3113 -Powered
No.3013 -Dummy
EMD F7-A
Undecorated
No.3223 -Powered w/Flywheel
No.3123 -Powered
No.3023 -Dummy
Model Railroader's October 1954 Trade Topics column includes a review of the Globe F7 models. Still a classic today, the Model Railroader reviewer was impressed back then too stating, "the Globe F-7 is just about the most beautiful plastic casting we have ever seen." The original Globe models were sold in kit form and did not inlcude power. The Model Railroader review stated that Globe had promised a power drive for the future and that the F7 would arrive in the future in painted examples.
Originally powered by a rubberband drive promoted under the name HI-F, Athearn introduces a new standard gear drive to the F7 in 1964. The illustration on the left is a December '64 ad promoting the new gear drive. The Globe tooling shell for the A-unit undergoes revisions at this time, becoming a twin headlight exmaple with numberboards cast on its nose.