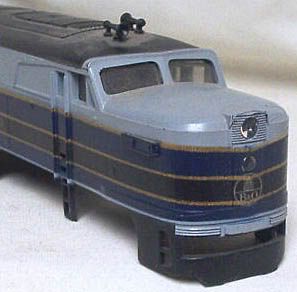 Alco PA-1
Baltimore & Ohio
No.3302 -Powered
No.3322 -Dummy

Alco PA-1
Delaware & Hudson
No. 3308 -Powered
No. 3328 -Dummy
Alco PA-1
Erie Lackawanna
No.3309 -Powered
No.3329 -Dummy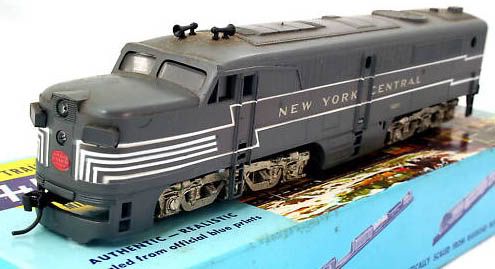 Alco PA-1
New York Central
No. 3303 -Powered
No. 3323 -Dummy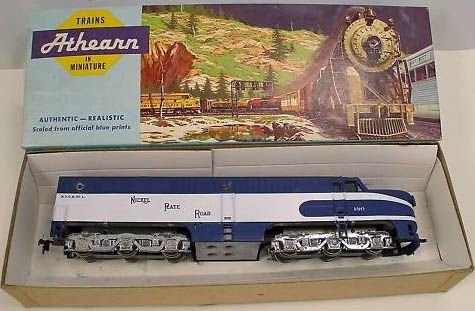 Alco PA-1
Nickel Plate
No. 3310 -Powered
No. 3330 -Dummy

Alco PA-1
Pennsylvania
No. 3304 -Powered
No. 3324 -Dummy

Alco PA-1
Santa Fe
No. 3305 -Powered
No. 3325 -Dummy

Alco PA-1
Southern Pacific
No. 3306 -Powered
No. 3326 -Dummy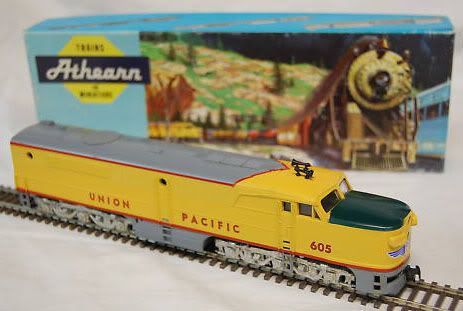 Alco PA-1
Union Pacific
No.3307 -Powered
No.3327 -Dummy
Alco PA-1
Undecorated
No. 3301 -Powered
No. 3321 -Dummy
October 1970's Trade Topics section of Model Railroader details the new Athearn ALCO PA-1/PB-1 diesels. The above announcement ad dates from October 1969.
Athearn revises its PA-1/PB-1 tooling and it returns in 1991 with a newer drive and plastic cast sideframes for the trucks.
Con-Cor's HO-scale PA-1, produced in Europe by Lilliput, beats the Athearn example to market by about six months. The Con-Cor PA-1 is found in the March 1970 Model Railroader Trade Topics. Con-Cor announced a PB-1 mate for its PA-1, but I don't believe the PB-1 was ever released.