EMD F7-B
Amtrak -Phase I scheme
No. 3033 -1978 Release
EMD F7-B
Amtrak -Phase III scheme
No. 3072 -1997 Release
EMD F7-B
Baltimore & Ohio
No. 3020 -Dummy
No. 3220 -Powered
EMD F7-B
Burlington Northern
No.3012 -Dummy

EMD F7-B
Canadian National
No. 3026 -Dummy
No. 3226 -Powered
EMD F7-B
Canadian Pacific
No. 3038 -Dummy
No. 3238 -Powered
EMD F7-B
Chesapeake & Ohio
No. 3028 -Dummy
No. 3228 -Powered

EMD F7-B
Chicago & North Western
No. 3032 -Dummy
No. 3232 -Powered
EMD F7-B
Chicago, Burlington & Quincy
No. 3012 -Dummy
No. 3212 -Powered
EMD F7-B
Denver & Rio Grande Western
No. 3016 -Dummy
No. 3216 -Powered
EMD F7-B
Milwaukee Road
No. 3018 -Dummy
No. 3218 -Powered
EMD F7-B
New Haven
No. 3022 -Dummy
No. 3222 -Powered
EMD F7-B
Northern Pacific
No. 3030 -Dummy
No. 3230 -Powered

EMD F7-B
Pennsylvania Railroad -Freight
No. 3008 -Dummy
No. 3208 -Powered
EMD F7-B
Pennsylvania Railroad -Passenger
No. 3006 -Dummy
No. 3206 -Powered
EMD F7-B
Santa Fe Passenger
No. 102 -Powered Hi-F Drive -1957 Release
No. 124 -Dummy -1957 Release
No. 1102 -Powered Hi-F Drive -1957 Release
No. 2102 -RTR Powered Hi-F Drive -1957 Release
No. 1002 -Dummy -1961 Release
No. 3202 -Powered -1968 Release
No. 3002 -Dummy -1968 Release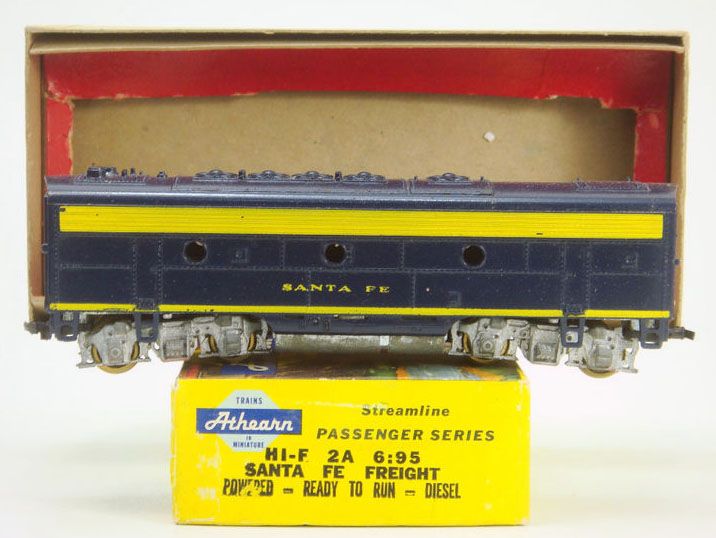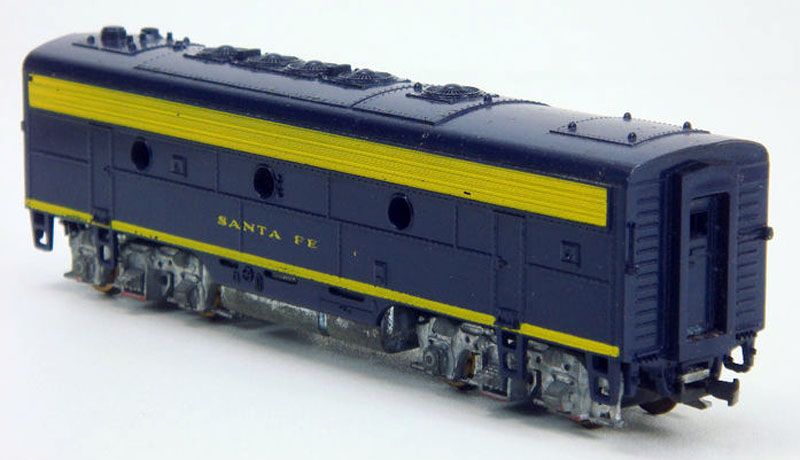 EMD F7-B
Santa Fe Freight
No. 104 -Powered Hi-F Drive -1957 Release
No. 126 -Dummy -1957 Release
No. 1004 -Dummy -1957 Release
No. 2104 -Powered Hi-F Drive RTR -1961 Release
No. 1104 -Powered Hi-F Drive -1961 Release
No. 3204 -Powered
No. 3004 -Dummy

EMD F7-B
Southern Pacific -Bloody Nose scheme
No. 3010 -Dummy
No. 3210 -Powered
EMD F7-B
Southern Pacific Daylight
No. 3036 -Dummy -1969 Release
No. 3236 -Powered -1969 Release

EMD F7-B
Union Pacific
No. 3014 -Dummy
No. 3214 -Powered
EMD F7-B
Undecorated
No. 3024 -Dummy
No. 3224 -Powered
Athearn's EMD F7B has its origin with Globe Models, similar to the F7A unit. The debut for Globe's F7B is 1954-1955. Unlettered gold, silver, and clear examples were offered. Additionally, Globe F7Bs were offered in Santa Fe (passenger warbonnet), Southern Pacific (Black Widow), and Union Pacific. These early decorated Globe Models' F7Bs required a bit of finishing assembly, paint work and decal application from the hobbyist.

Athearn officially rolls out F7B models in 1957 with a number of roadnames offered in the company's original three-digit stock numbering system. Numbered in the 100 series, original Athearn HO-scale F7B diesels utilized the Hi-F or rubberband drive mechanism in the late 1950s and early 1960s. Non-powered early F7B releases carried 120-series numbering. In 1961, Athearn reconfigures its numbering system and Hi-F powered F7Bs move to 1100-series for kits and 2100-series for assembled models; while dummy F7Bs receive 1000-series numbers for kits and 3000-series numbering for ready to run examples.
This Pennsylvania example illustrates the look of Athearn's early production Hi-F driven F7B HO-scale models. The early rubberband drive with die-cast trucks is found decorated in the following roadnames: Baltimore & Ohio, Burlington (silver), CB&Q (gray and red), Denver & Rio Grande (4-stripe), New Haven (McGinnis scheme), Milwaukee Road (gray and orange), Pennsylvania (Tuscan red passenger), Pennsylvania (Brunswick green freight), Santa Fe (passenger warbonnet), Santa Fe (freight), Southern Pacific (Black Widow), Union Pacific. These same early roadnames were offered in non-powered examples and both powered and dummy could be purchased in assembled form.