Hustler Switcher
Black
No.2991 -Powered
Hustler Switcher
Bronze
No. 2995 -Powered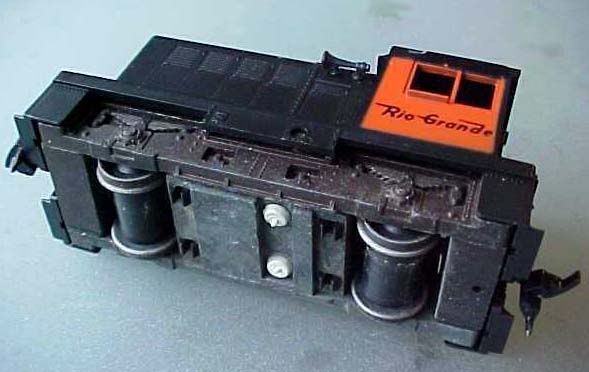 Hustler Switcher
D&RGW
No. 2997 -Powered
Hustler Switcher
Red
No.2992 -Powered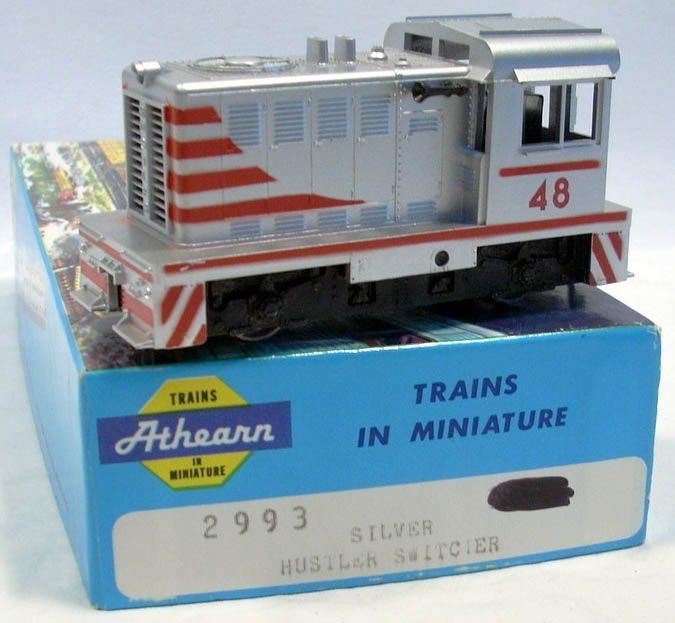 Hustler Switcher
Silver
No. 2993 -Powered
Hustler Switcher
Yellow
No. 2994 -Powered
Minus its rubber bands, displayed to the left is the drive for the Athearn Hustler Switcher. The Hustler is listed in the 1957 Athearn catalog as NEW with HI-F Powered drive for $4.95, but doesn't carry the Hustler name. For '57, the switcher is Athearn's Porter Yard Switcher. No roadnames are presented in the '57 listing.

Lionel's first HO-scale product line available from 1957-1966 utilitzed Athearn-produced items beginning in 1958, according to George J. Horan and Vincent Rosa in their "Greenberg's Guide To Lionel HO." The Lionel-HO Hustlers came in two roadnames: Navy Yard and Rio Grande. The Rio Grande was similar to the Athearn release, however Lionel-HO examples carry Lionel's "L" in the lower corner of the cab. The Rio Grande Hustler from Lionel included the snow plow attachment. The other name from Lionel-HO in 1958 was Navy Yard. This blue Hustler did not find itself in Athearn's offerings.

Lionel-HO would retain the Hustler or at least a close clone in its offerings following the 1958 release of the two Athearn-made exmaples. The Lionel-produced Hustlers would include a red Minneapolis & St. Louis; white and red AEC -Atomic Energy Commission; yellow and gray Union Pacific; and black and red Rock Island. Lionel also turned the M&StL model in a rotary snow plow faced oddity. For further information, I highly recommend "Greenberg's Guide To Lionel HO Volume I: 1957-1966."

How do you position a rubber band drive as high tech? Athearn's 1958-59 catalog does a nice job of boasting the band by calling it a Goodrich Neoprene Belt Drive. The '58 catalog calls the model, The Hustler and claims it pulls up to 16 cars and is in beautiful, but not listed, tu-tone colors.
A snow plow attachment is present in Athearn's 1959-60 catalog with a 29-cent add-on asking price. The Hustler's color selection is present in '59 too, with five colors: Black, Red, Silver, Yellow, and Bronze. The model is still $4.95, but still suffering from some name recognition. The '59 catalog labels it, Industrial Switcher, though Athearn does include the Hustler name in the copy detailing the switcher and its uses.

For '62, the Hustler is first shown by Athearn in its annual catalogs in its one and only roadname: Rio Grande. Though produced for many years by Athearn and sold also by others including Lionel-HO in the '60s and Cox in the '70s, only the Rio Grande is presented as rostering a Hustler. Odd when you think about it. Wouldn't ATSF or PRR Hustlers have added sales?