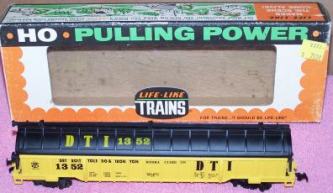 Cable Dispensing Car
Detroit Toledo & Ironton
No. T590A -1973 Release
No. 08940
Cable Dispensing Car
Elgin Joliet & Eastern
No. T590C -1973 Release
No. 08944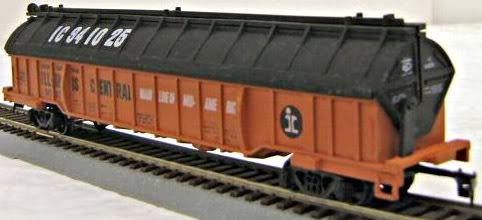 Cable Dispensing Car
Illinois Central
No. T590B -1973 Release
No. 08942
The August 1968 Model Railroader includes a two-page S-scale drawing of the Integral-Cover Coil Car. New on American rails in the late 1960s, the car is noted as being owned by Pittsburgh & Lake Erie with a fleet of 50 and Bessemer & Lake Erie with a collection of 10 examples. The 125-ton car was built by Evans and the prototype measures just under 60-feet in length. The car's purpose was to haul coiled steel.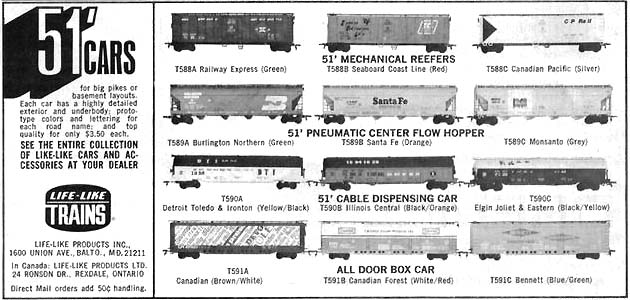 HO-Scale operators will quickly recognize this very familiar set of four 51-foot Cars. All have appeared over the years from not only Life-Like, but also are found at times from AHM, Bachmann, Lionel-HO, Model Power, and others. These models were produced for Life-Like by Kader in Taiwan.
All four examples are 1973 releases for Life-Like. March 1973 is listed release date from Life-Like for its 51-foot Mechanical Reefer; April brought a 51-foot Pneumatic Center Flow Hopper; May saw the 51-foot Cable Dispensing Car; and June was the release date of the 51-foot All Door Box Car.
With the announcement of the Thrall Door Box Car in 1975, the former All Door Box Car is dropped from the catalog. The 1975 catalog is the last time the other three examples (Mech Reefer; Center Flow; and Cable Car) appear in a Life-Like catalog.