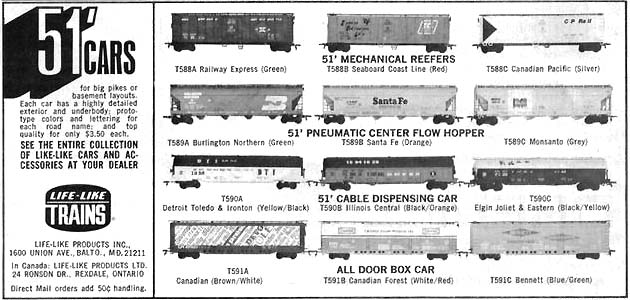 HO-Scale operators will quickly recognize these very familiar set of four cars. All have appeared over the years from not only Life-Like, but also are found at times from AHM, Bachmann, Lionel-HO, Model Power, and possibly others too.
All four examples are 1973 releases for the Life-Like line. March 1973 is listed release date from Life-Like for the 51' Mechanical Reefer; April brought the 51' Pneumatic Center Flow Hopper; May had the 51' Cable Dispensing Car; and June saw the release of the 51' All Door Box Car.
With the announcement of the Thrall Door Box Car in 1975, the former All Door Box Car is dropped from the catalog. The 1975 catalog is the last time the other three examples (Mech Reefer; Center Flow; and Cable Car) appear in a Life-Like catalog.

Pneumatic Center Flow Hopper
Monsanto
(No.T589C)
(No.08938)
Santa Fe
(No.T589B)
(No.08936)
Burlington Northern
(No.T589A)
(No.08931)

Mechanical Reefer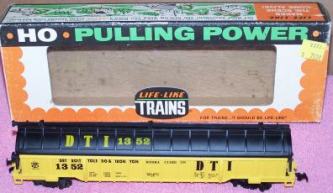 Cable Dispensing Car
Illinois Central
(No.T590B)
(No.08942)
Elgin Joliet & Eastern
(No.T590C)
(No.08944)
Detroit Toledo & Ironton
(No.T590A)
(No.08940)

Pullman-Standard All-Door Box Car
CN Newsprint (#T591A)
Can For -Canadian Forest Products (#T591B)
Bennett (#T591C)