"COX '75" is the second year/catalog to feature the Hong Kong produced line of HO-scale trains that serves as the focus for this web site.

This catalog is 40-pages of full-color and includes the HO-scale trains beginning on page 23 and continuing through the end of the catalog.

The first section is "Engine Powered Models" and runs through page 16. This section displays COX's R/C planes and automobiles.

Pages 17-22 contain COX's 1/32-scale race cars. Called "Super Scale," there are four race sets shown with eight different race cars available.
"COX Power '76" is a 44-page full-color review of the bicentennial year's product lines.

"Engine Power Cars and Planes" open the catalog and run through page 24. HO-scale trains enter on page 25 and conclude on page 38. The last section of the catalog is titled, "Wheel Power Big Car Racing" and deals with COX's 1/32-scale race car sets.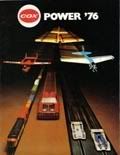 The 1977 COX catalog is titled "1977 The New Age of COX" and does include eight pages of the Hong Kong-produced HO-scale train line. COX had no new releases for its train line in '77, according to the its catalog. The catalog displays a few train sets, accessories, and a limited number of engines and rolling stock as compared to the 1975 and 1976 catalogs. The 1977 COX catalog is the final one to date that included HO-scale trains to my knowledge.
The Canadian market saw a number of unique and exclusive items in the COX HO-scale train line. Catalogs from COX parent company Leisure Dyanmics included the HO-scale train line in Canada. Below you'll find a link to the COX Trains Catalogs section and information regarding the Canadian issued publications. Click on the catalog cover image below to view this catalog.