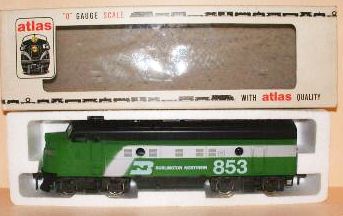 EMD F9 Diesel Locomotive
Burlington Northern
No. 6102 -1971 Release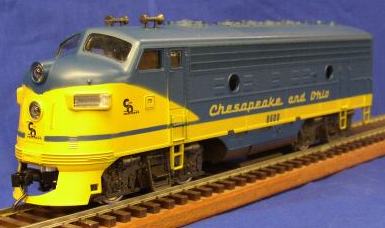 EMD F9 Diesel Locomotive
Chesapeake & Ohio
No. 6103 -1971 Release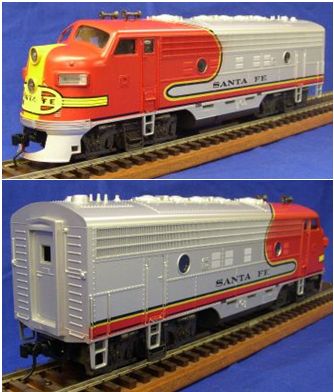 EMD F9 Diesel Locomotive
Santa Fe
No. 6101 -1971 Release

EMD F9 Diesel Locomotive
Union Pacific
No. 6104 -1971 Release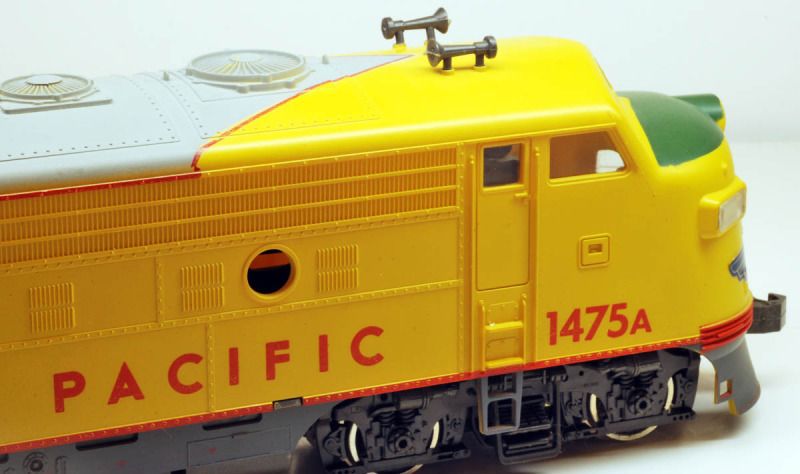 Roco's tooling for the O-scale EMD F9 A-unit included a 48 inch dynamic brake cooling fan on the roof, just behind the pair of horns. The single horns are separately cast plastic and are not painted on any of the 1970s F9 releases. Window materials is present on the front windshields and side window and cab door window. The twin side portholes and the rear cab door do not include window material. The twin headlights and numberboards include clear material. Our Union Pacific sample is cast in Armour Yellow plastic with two shades of gray, red and green applied. The UP winged shield herald adorning the nose is a sticker.
No passenger cars were present in the 1970s Atlas O collection, however the F9 diesel was ready for them. The last section on the rear of the roofline features steam generator equipment. The handrails were cast as part of the shell on the F9, the shell snapped over the frame and drive and was held by a pair of tabs in slots along the frame above the fuel tank skirting.
Atlas' O-scale EMD F9A was the major motive selection in the company's early 1:48th scale model trains. The initial crop of roads: BN, C&O, Santa Fe, and UP are all that were produced at the time. The model, as was often done at this time, is a fully optioned example of EMD's F9 and comes with dynamic brake fan and steam equipment to haul passenger trains. The model includes all wheel powered drive with 12-volt DC motor. You'll find a review in the July 1972 edition of Model Railroader magazine for Atlas' F9 diesel. The review provided data on the performance and shows scale speed range from 7 mph to 80 mph. The model weighed 32 ounces and could operate on curves of 24 inch radius. Might be my scale, but I got 29.5 ounces as the weight of my Union Pacific F9 example.
A 1980 Atlas product catalog includes what appears to be the remains of the line with F9 diesels still available in Santa Fe, BN and UP carrying a $30 retail price.