1920 Coach
Alton Limited "Webster Grove"
No. 6205-21
No. 13025 w/Interior
No. 13325 w/Interior and Lights
1920 Coach
Baltimore & Ohio
No. 6214
No. 6205-B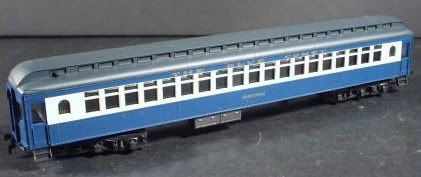 1920 Coach
Central of New Jersey -Blue Comet
No. 6205-BC
No. 13045 w/Interior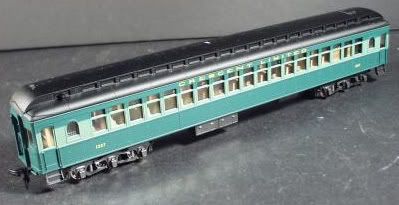 1920 Coach
Crescent Limited
No. 6205-CL
No. 13035 w/Interior
No. 13335 w/Interior and Lights
1920 Coach
Chesapeake & Ohio
No. 6201-C
No. 6205-C
1920 Coach
Milwaukee Road
No. 6201-M
No. 6205-M
1920 Coach
New Haven
No. 6220
No. 6205-NH
1920 Coach
New York Central
No. 6294
No. 6205-NY
The 1967-69 AHM catalog inlcudes five bodystyles for the standard or heavyweight series of passenger cars made by Rivarossi in Italy. The New York Central coach is the only one that year to be offered in NYC paint. The price was $3.98 in the late '60s for this model.
1920 Coach
Pennsylvania Railroad
No. 6274
No. 6205-P
No. 6374 w/Interior and Lights
The Rivarossi-made AHM coach measures 72 scale feet in length and the 1967-68 catalog shows the car available in Santa Fe and New York Centrail, along with this Pennsy example. The car sold for $3.98 in the late '60s, for the standard version. This car was also sold by AHM in a deluxe version that included interior and lighting. The deluxe model sold for $6.98 in 1967.
1920 Coach
Pennsylvania Work Train
No. 6201-W

1920 Coach
Santa Fe
No. 6264
No. 6364 w/Interior and Lights
No. 6205-SF
1920 Coach
Royal American Shows
No. 6201-RC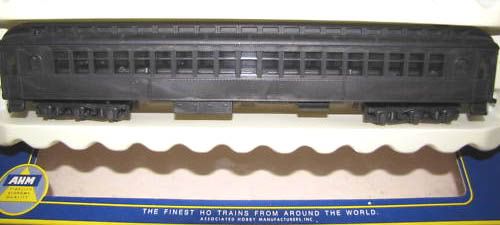 1920 Coach
Undecorated
No. 6201-NF
No. 6205-NF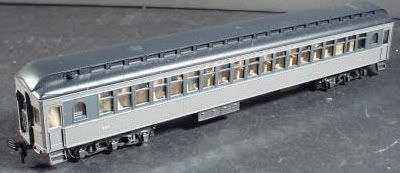 1920 Coach
Union Pacific -Overland
No. 6305-28 w/Lights
1920 Coach
Wabash
No. 6205-WA