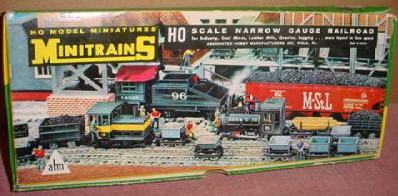 The AHM HOn 2 1/2 Narrow Gauge MiniTrains rode on standard N-Scale track, but were sized for HO-Scale. This is very similar to today's Bachmann line of On30 items that are sized for O-Scale, but ride on HO-Scale track. The line is introduced in 1965.
The unique AHM HOn 2 1/2 Narrow Gauge line meets its demise in early 1971. A full-page ad found in the February 1971 edition of Railroad Model Craftsman includes the bulk of AHM's Narrow Gauge line in a "Final Closeout!" sale. The ad copy boasts that AHM's Narrow Gauge line, "has had good acceptance" however it was being dropped according to this ad. Those with a spare $6 could take home the Diesel, 10-Cars, and Track (No.3068); the Diesel, 4-Cars, and Track (No. 3051) was only $4.88; the Western Union Express (No.3061) was down to $9.99; and the group of locos were all going out the door starting at $3.77 each.
IHC imports the HO narrow gauge collection at least once to my knowledge in the 1980s.