1979 Train Sets
Black River Freight
No. 6-1963 -1979 Release
1979 Train Sets
Chesapeake Flyer
No. 6-1865 -1978 Release
1979 Train Sets
Great Plains Express
No. 6-1866 -1978 Release
1979 Train Sets
Midnight Flyer
No. 6-1960 -1979 Release
1979 Train Sets
Quaker City Limited
No. 6-1971 -1979 Release
Listed as a Lionel Limited Edition Series release, the 1979 Quaker City Limited set featured a Reading U36B, Union '76 Tank Car, Pennsylvania Power & Light Hopper, CP Rail Gondola, Bangor & Aroostook Box Car, NYC Reefer, Reading Crane Car and Reading Bay Window Caboose. The Collector Series had not been officially designated by Lionel in 1979, that would come in 1980, but this Quaker City Limited Set very much fits the mold of the later Collector releases.
1979 Train Sets
Santa Fe Double Diesel
No. 6-1864 -1978 Release
Set included a powered Santa Fe silver and red Alco A with dummy Alco B, gondola with canister load, flat car with stakes, double door box car, hopper and square window caboose.
1979 Train Sets
Smokey Mountain Line
No. 6-1965 -1979 Release
Lionel's basic starter set for '79 was this offering featuring the mountain switcher steam locomotive. The engine was an 0-4-0T carrying the number 8905. The set's rolling stock consisted of an operating dump car, gondola and bobber caboose.
1979 Train Sets
Wabash Cannonball
No. 6-1962 -1979 Release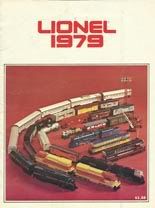 Following the number pattern for train set offerings, Lionel's 1979 new issue sets feature a 1900-series stock number. Returning sets from previous years retain their original number. For 1979, Lionel offered five sets of new origin that spanned basic to specialty. The new for '79 examples in train sets included Smokey Mountain Line (No. 6-1965), Midnight Flyer (No. 6-1960), Black River Freight (No. 6-1963), Wabash Cannonball (No. 6-1962) and the Quaker City Limited (No. 6-1971). While the Quaker City is a totally new set, the Black River Freight had been offered in prior years. The switch to a 1900-series number for the Black River notes a change in set contents from previous editions.