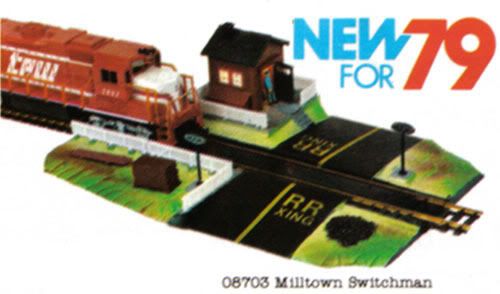 Operating Switchman
No. 08703 -1979 Release
No. 08203 -1981 Release
The Milltown Switchman Life-Like Action Accessory sold for $9 in 1979 and was a new release that year. For 1980, Life-Like supplies a different stock number, 08203, but retains the Milltown Switchman name. For 1981, the stock number is simply 8203 and the item's name becomes Operating Switchman with Lighted Building.
Here is this Life-Like item in the 1980's Precision Engineering packaging...
Just as Life-Like's Operating Crossing Gate tooling seems very similar to TYCO's, this Switchman item certainly looks similar to TYCO's switchman accessory. You may click on the image of the TYCO item to view more information regarding it. Here's the TYCO item below...