One of the earliest references I find to N-scale is an article in the Februrary 1964 Model Railroader magazine. The article is titled, "OOO gauge, the smallest of the small" and discusses the possibilities of the then-new 1:160th scale. The moniker "N" had not been established and OOO or Triple-O was the name given for models built 160 times smaller than actual size. Lone Star's F7A and Arnold Rapido's European old-tmer 0-6-0 are illustrated as samples of what's available in motive power.
The 1964 article discusses the early offerings from Lone Star and Arnold Rapido and requests that the NMRA (National Model Railroad Association) review and study the new OOO scale and determine standards for its usage and make it an official American scale.
The first plastic N-scale F7 is not an N-scale model, but OOO-scale from Lone Star in the early 1960s. Lone Star originated in England and built its models to 1:152 scale.
Arnold, from West Germany, in1963 introduces its Rapido line constructed at N-scale's 1:160th proportions and operating on 9mm track.
Faller is one of the early participants in N-scale structure kits. Faller introduces ten kits to the U.S. market via importer Charles Merzbach in 1965. The structures are of European architectural design, but similar to North American styles to pass the mid-1960s modeler's test and taste. Among the buildings, Faller had a church, modern station, houses, freight house, and interlocking tower. The kits were molded in various colors and sold in sets for $3.98 each. Vollmer's 1966 catalog includes N-scale structures. Kibri is also present with N-scale building kits by 1966.
Minitrix advertises its OOO-N scale line in the mid-1960s. The Minitrix collection then included a modest offering of Old-Timer items. An 0-6-0 o steamer, plus baggage, coach, gondola, box car, and caboose. Minitrix also offered nickel silver track and foam roadbed in N-scale. The 0-6-0 had a 1965 retail of $9.95. The rolling stock sold for $1.75-$2 per item.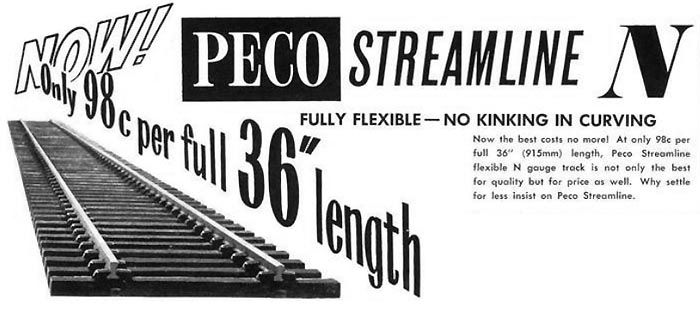 N-scale track was offered by Lone Star and Arnold Rapido from the beginning. By 1966, Peco has N-scale flex track in 36-inch sticks with nickel silver rails for $1.75 each. Peco (Pritchard Patent Products) also has high speed turnouts, an end-of-track bumper, plus sub-mounted switch machine for $3.50 in 1966. The Peco track was imported in the U.S. by Nathan R. Preston of Chicago.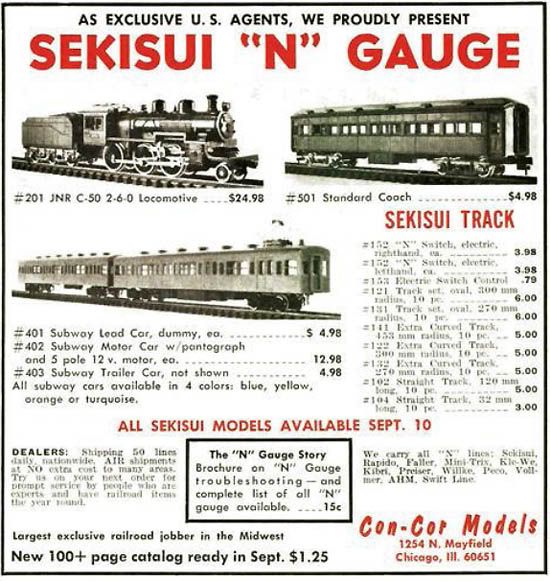 Enter Con-Cor to N-scale model railroading with Japanese imports from Sekisui-Kato. The Con-Cor line debuts in the fall of 1966 with a Japanese National Railways C-50 2-6-0 steam locomotive, a heavyweight coach, and subway cars. The Sekisui steam loco retails for $24.98, the passenger car and subway cars are $4.98 each with the powered subway motor car selling for $12.98. Con-Cor also imports Sekisui N-scale track.

Con-Cor lists that they stock "all" N-scale lines available at this point in time, 1966, which includes: Rapido, Faller, Minitrix, Kle-We, Kibri, Preiser, Willke, Peco, Vollmer, AHM, and Swift Line. Kle-We offered N-scale buildings and Preiser did figures. The other names are represented on this site, except for Willke and Swift Line, which I'm unclear on what they produced in the 1960s for N-scale.
Lima was producing European-prototype N-scale offerings by late 1966, according to an ad promoting a dual-ended loco and passenger cars available then from Con-Cor.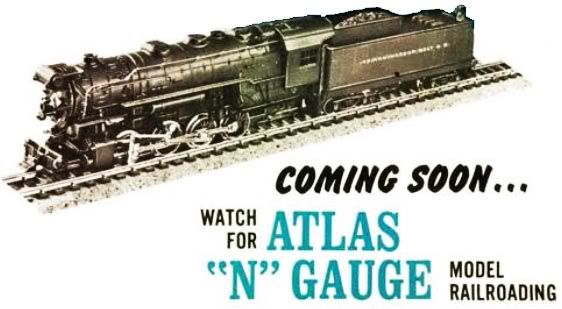 The January 1967 Model Railroader features a cover story regarding construction of the Enfield & Ohio, this is the first major N-scale project layout covered by the magazine and a sign that 1:160th had made it. Much more was in store for N in 1967. Atlas teases in the lower right corner of their July 1967 full page ad, N Gauge is coming. The entry of Atlas and the newly announced Con-Cor American prototypes were game changers for 1:160th model trains.
Jamco Ltd. in the Chicago suburb of Skokie is credited as the first to import brass N-scale models. A Santa Fe 3400-class 4-6-2 Pacific arrives from Jamco in N-scale brass in 1969. The model carried a $49.95 retail in 1969.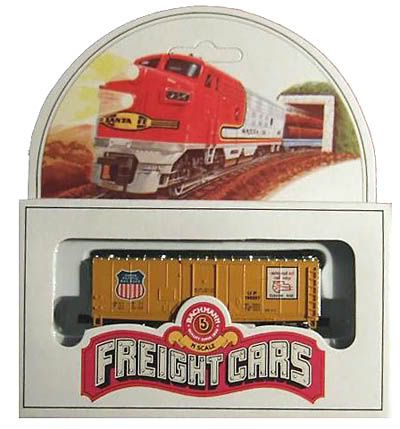 Bachmann's rolling stock for its N-scale collection has included prototypes from all eras of North American railroading. Early wood side box cars to the modern Amfleet passenger cars have all been produced by Bachmann in N-scale. See them all at the Bachmann N-scale Rolling Stock Resource.

| | | | | | | | | |
| --- | --- | --- | --- | --- | --- | --- | --- | --- |
| | | | | | | | | |

Please note that this site was created for use by those with an interest in model trains and does not represent the current Bachmann line available today. The author is not affiliated with, nor representing Bachmann in any way. I do not have items available for sale, nor do I have information regarding repair or replacement parts, etc.
This site is intended for your enjoyment and information only.