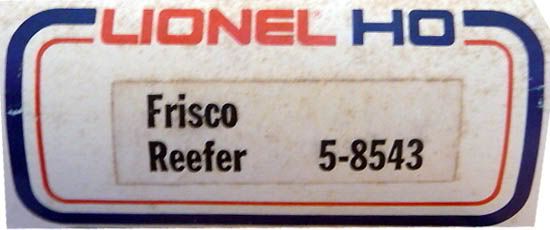 Mechanical Refrigerator Car
Frisco
No. 5-8543 -1975 Release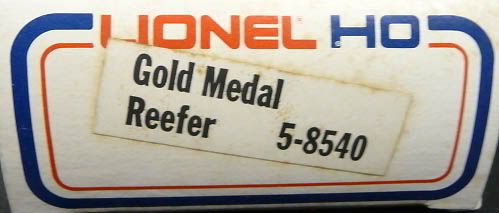 Mechanical Refrigerator Car
Gold Medal
No. 5-8540 -1975 Release

Mechanical Refrigerator Car
Heinz
No. 5-8542 -1975 Release
Mechanical Refrigerator Car
Pacific Fruit Express
No. 5-8411 -1974 Release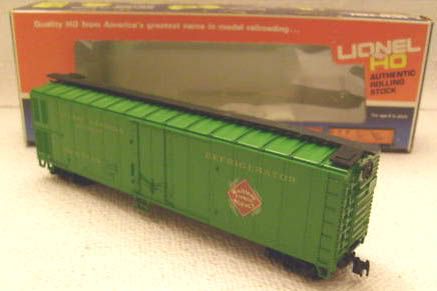 Mechanical Refrigerator Car
REA
No. 5-8412 -1974 Release
Mechanical Refrigerator Car
Schaefer
No. 5-8541 -1975 Release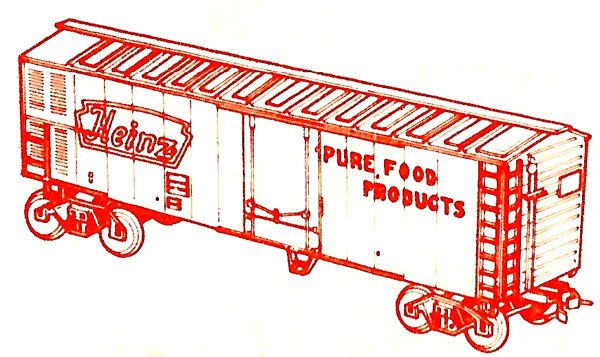 Lionel's 50' Mechanical Reefer is included in the company's first 1970s catalog of 1974 with two examples, PFE and REA, displayed as part of train set offerings.
For 1975, Lionel introduces four new examples of the 50' Mechanical Reefer: Gold Medal, Frisco, Heinz, and Schaefer. The 1974 cars received 5-8511 for the PFE and 5-8512 for the REA stock numbering. The 1975 additions moved up to 5-8540 through 5-8543. The set of reefers returns in the 1976 Lionel HO catalog unchanged.
The 1977 Lionel HO catalog presents a new collection of four Billboard Reefers. The previously listed group of Mechanical Reefers are absent the '77 catalog, beyond being found in PFE and REA examples in two of the train set offerings.
This riveted smooth side reefer car was made for Lionel by Roco in Austria. The outside brace reefer is a Kader product from Hong Kong/Taiwan.