Box Car
AMF
No. 5-8512 -1975 Release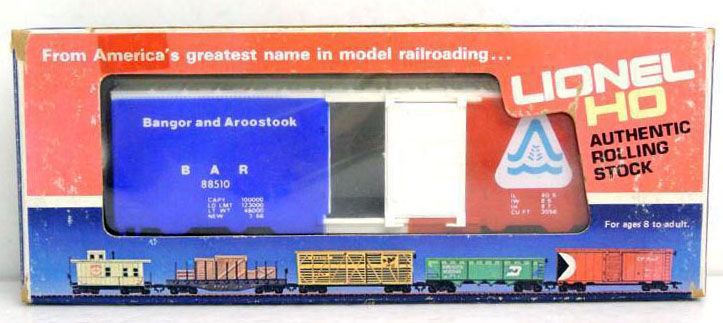 Box Car
Bangor and Aroostock
No. 5-8510 -1975 Release
Box Car
Chessie System
No. 5-8703 -1977 Release
Box Car
CP Rail
No. 5-8400 -1974 Release
Box Car
Conrail
No. 5-8701 -1977 Release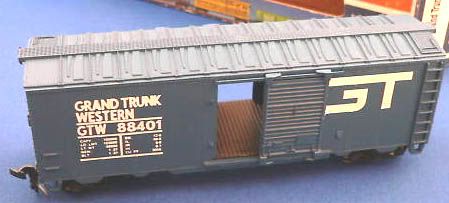 Box Car
Grand Trunk
No. 5-8401 -1974 Release
Above is the original Lionel 40' Box Car dressed in Grand Trunk colors. Note the four feet holding the door to the railings and cast-on roofwalk. These are among the spotting differences between this Lionel-tooling example and the later cataloged Box Cars produced by Kader for the company.
Box Car
Grand Trunk
No. 5-8614 -1976 Release
This Grand Trunk example features a different roadnumber and following Lionel practice that the car's roadnumber matches its Lionel stock number it also has a different stock number from the previous GT Box Car. This example was produced by Kader for Lionel and features the company's tooling that is also found on Bachmann and some AHM examples of the same period.
Box Car
Milwaukee Road
No. 5-8513 -1975 Release
Box Car
Railbox
No. 5-8704 -1977 Release

Box Car
Sears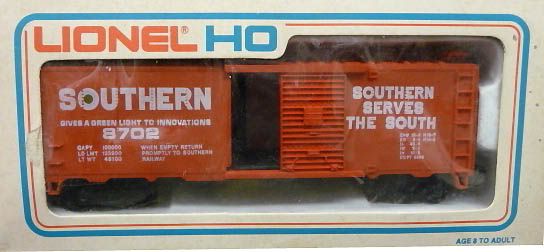 Box Car
Southern
No. 5-8702 -1977 Release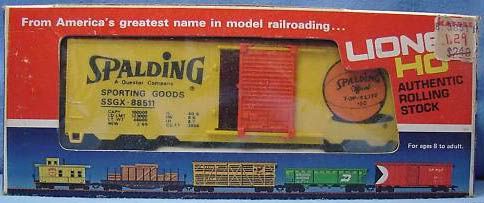 Box Car
Spalding
No. 5-8511 -1975 Release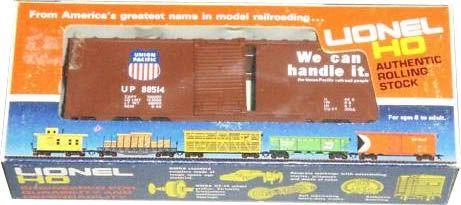 Box Car
Union Pacific
No. 5-8514 -1975 Release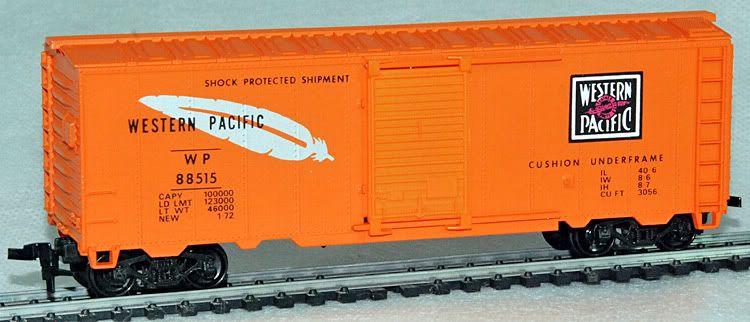 Box Car
Western Pacific
No. 5-8515 -1975 Release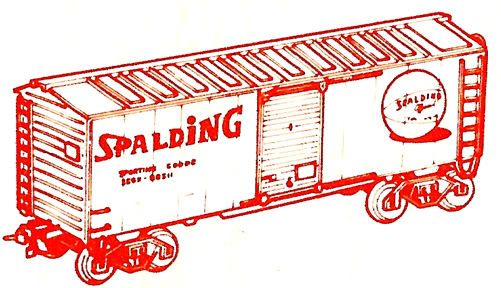 Lionel includes a pair of 40' sliding door Box Car models in the 1974 catalog: CP Rail (No. 5-8400) and Grand Trunk (No. 5-8401).
For 1975, Lionel expands the 40' Box Car collection with six new additions that are numbered 5-8510 to 5-8515. The '75 new Box Cars include: AMF, Spalding, Bangor & Aroostock, Milwaukee Road, Union Pacific, and Western Pacific.
For the 1970s releaes, Lionel has two tooling variations for its 40' Box Car. The original tooling may be spotted by the four claw feet, two on on top and two on bottom, of the sliding door. Later 40' Box Car examples were produced for Lionel by Kader and feature tooling that mirrors the familiar Bachmann 40' Box Car models.