Scenic Classics Kits
Barnyard and Animals
No. 2554 - 1979 Release
No. 49-2554 -1982 Release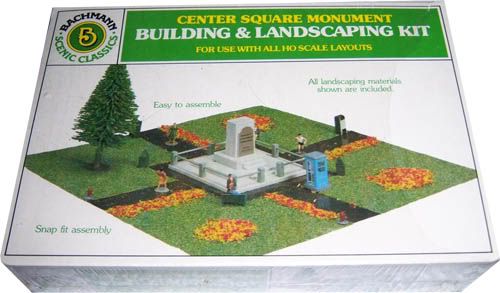 Scenic Classics Kits
Center Square Monument
No. 2563 - 1980 Release
Scenic Classics Kits
Country Church
No. 49-2566 - 1982 Release
Scenic Classics Kits
Factory
No. 49-2565 - 1982 Release
Scenic Classics Kits
Fire House
No. 49-2564 - 1982 Release
Scenic Classics Kits
Greenhouse and Gardens
No. 2553 - 1979 Release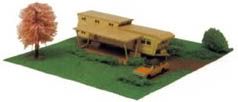 Scenic Classics Kits
Mobile Home and Car
No. 2556 - 1979 Release
Scenic Classics Kits
Picnic Grounds
No. 2561 - 1980 Release
No. 49-2562 -1982 Release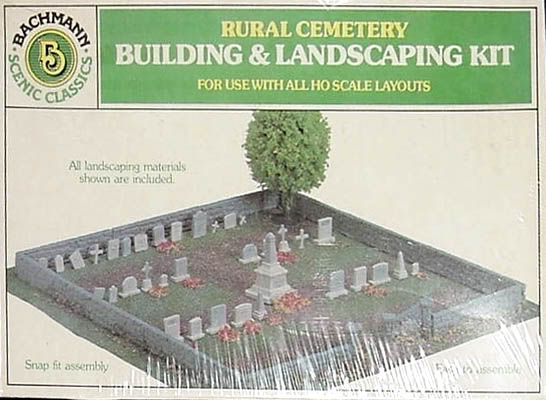 Scenic Classics Kits
Rural Cemetery
No. 2559 - 1980 Release
No. 49-2559 -1982 Release
Scenic Classics Kits
Salvage Yard
No. 2557 - 1980 Release
No. 49-2557 -1982 Release
Scenic Classics Kits
School and Playground
No. 49-2567 - 1982 Release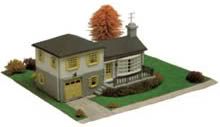 Scenic Classics Kits
Split Level House
No. 2552 - 1979 Release
No. 49-2552 -1982 Release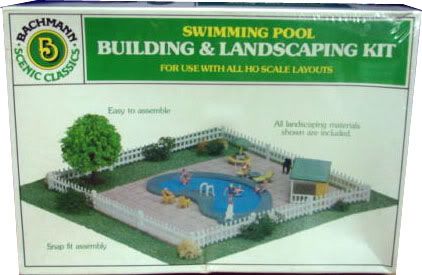 Scenic Classics Kits
Swimming Pool
No. 2562 - 1980 Release
No. 49-2562 -1982 Release
Scenic Classics Kits
Tree House
No. 2558 - 1980 Release
No. 49-2558 -1982 Release
Scenic Classics Kits
Two Story House
No. 2551 -1979 Release
No. 49-2551 -1982 Release
Scenic Classics Kits
Vegetable Garden
No. 2555 -1979 Release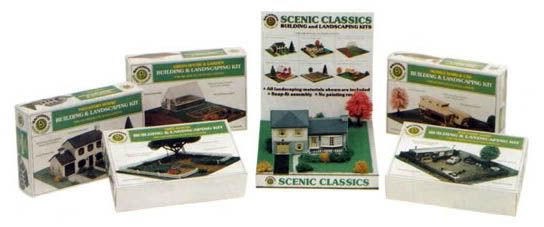 A 1979 addition and variation to the Plasticville, U.S.A. collection was Bachmann's Scenic Classics offerings. The structures were recycled tooling from the Plasticville line. Listed as "New & Exclusive," the Scenic Classics provided the buyer with not merely the building kit, but also the landscaping materials to help complete the scene and provide a finished look.

The Scenic Classics line doubles from six to twelve offerings in 1980. New in '80 are: Salvage Yard (2557), Tree House (2558), Rural Cemetery (2559), Picnic Grounds (2561), Swimming Pool (2562) and Center Square Monument (2563).

The 1982 Bachmann catalog brings four additions to the Scenic Classics collection: Fire House (49-2564), Factory (49-2565), Country Church (49-2566), School and Playground (49-2567). Bachmann's stock number picks up a two-digit leading number in '82 and the previous Scenic Classics gain the "49-" numbering. Gone from the catalog listing in 1982 are: Greenhouse and Gardens, Vegetable Garden, Mobile Home and Car, and Center Square Monument.

Running from 1979 to 1982, the Scenic Classics are replaced in Bachmann's 1983 catalog with Lighted Scenic Classics.