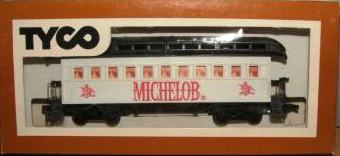 The Michelob Express Set
(No.)
According to a mention in the December 1973 Railroad Model Craftsman Dispatchers Report column, TYCO produced 500 examples of the Anheuser-Busch decorated Michelob Express. A St. Louis, Missouri address is provided in the magazine's reference to the sent for ordering and the cost is listed at $29.50.
Alcan Chemical Products Train Set
(No.?)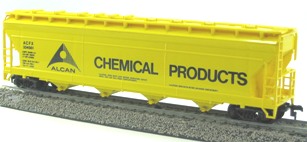 Not much information is presently known regarding this TYCO promotional train set. From information on the company's website, Alcan Chemical was started in 1971 and supplies Chemical Products and Active Pharmaceutical Ingredients (APIs) to the Pharmaceutical, Personal Care, Cosmetic, Nutritional and Industrial markets. The above pictured yellow Alcan Center-Flow Hopper is the only known unique piece of this promotional train set. The Alcan car is never listed in TYCO catalogs and is not known to have been released as a regular stock item.
Arm & Hammer Train Set
(No. 7664Q)

This 1980's TYCO promotional train set contained a uniquely decorated Arm & Hammer Baking Soda 50ft. Plug Door Box Car. This set, No. 7664Q, was powered by a Rock Island Shark Nose.
Bubble Yum Train Set
(No.7603Q)
(1984)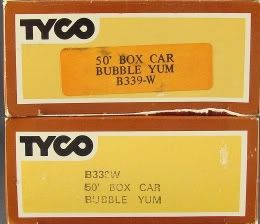 This very popular TYCO promotional set was offered in the early 1980s. It featured the two unique Bubble Yum items pictured, plus a Santa Fe red-and-silver GP-20, a Virginian 40' Hopper Car and generic red Steamline Cupola Caboose. The set is thought to have included TYCO's Bridge and Trestle Set, plus track, and a standard TYCO power pack.
The Bubble Yum 50' Box Car carries stock number B339W and the Bubble Yum Truck Cab and Trailer is TYCO stock number B998. Neither piece was ever seen in a regular TYCO catalog. The set was offered in conjunction with a promotional deal with Bubble Yum chewing gum. One shipping date was noted as being January 1985 for this set. As with most TYCO promotional train sets, it was shipped in a white generic TYCO box with orange lettering. The set's name is usually found stamped or stickered to the box.
Chef Boyardee Train Set
(No.7635Q)
(1985)
(No.7656Q)
(1985)
From the mid 1980s is this promotional set offered by TYCO for Chef Boyardee products. This set's unique piece was its box car decorated for Chef Boyardee. The car was a 50' Plug Door Box Car with white sides and a red roof and ends. On the car is the Chef Boyardee logo in black-red-and-green and the company's "Thank Goodness for Chef Boyardee" slogan. Another unique item that appears to have been included with this set is a TYCOKIT Super Market #7772. TYCO is not known to have offered this kit beyond this promo set. Comparing stock numbers provides a possible clue as to what this kit might have been. TYCO does list a Drug Store #7772 in the Center Street series of TYCOKITs from 1982 to 1986. Most likely the Chef Boyardee's Super Market, is the same Drug Store kit with some possible minor alterations in signage.
This set is usually found featuring a Santa Fe red-and-silver GP-20, and the generic red Steamline Cupola Caboose. The Chef Boyardee set has also been seen however with a Burlington Northern Shark and Caboose carrying the same 7635Q number more often found with Santa Fe power. The 7656Q version is known to have included the Union Pacific 40' Gondola with Culvert Pipes and featured a set of telephone poles and crossing signs. The 7635Q version is known to have included a silver 40' Texaco Tank Car in place of the UP Gondola. Both are thought to have included a 36"-cirlce of track and standard TYCO power pack.

Thought to be included with the Chef Boyardee promo set is a unique example of a TYCOKIT,
the Super Market carrying the same 7772 stock number as the Center Street Series TYCOKIT Drug Store.
Johnson Wax Train Set
(No.7617Q)
This TYCO promotional set was offered in the early/mid 1980s. Differing from most examples of promo sets, this one has all unqiue items.
The set featured the Shark Nose painted in Santa Fe's red-and-silver Passenger Warbonnet scheme with the Johnson Wax logo. The TYCO Santa Fe Shark Nose is found only in the 1982 product catalog and one assumes the Johnson Wax Shark could have been produced about the same time.
Three box cars are included, all are TYCO's standard 50' Box Car model, each featuring different Johnson Wax products One car is solid blue with a light blue Glade logo and Clean'n'Clear lettering; another is solid white and features red outline images of various products and the slogan, "Clean Up with Johnson Wax." The white box car may carry the Shout product logo on its reverse side or perhaps there are two different white cars available for this set. Both have been seen. Another car is solid yellow and carries the Future and Lemon Pledge logos.
The caboose is lettered for Johnson Wax and it is the really unique item in this set. Look closely at this caboose and you'll see that it is not a style regularly available from TYCO. TYCO offered the Streamline Caboose and the Wide-Vision Caboose in its regular line, but this caboose resembles one offered by Life-Like. I have no information regarding why a more typical caboose from TYCO's line wasn't included. It does however add to the curiousity and interest in this promotional set.

Possibly the other side of the SHOUT Box Car seen above, this car features the slogan "Clean Up With Johnson Wax" and might suggest that there are at least two different white 50' Plug Doors produced for this set.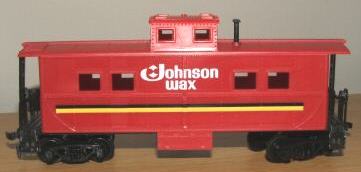 Unique to both the Johnson Wax promo set and the TYCO line in general is this "New England" style Caboose.
Corn King Train Set
(No.7623QA)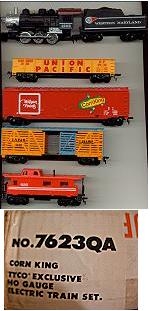 Wilson Foods' Corn King line of meat products was the subject of this promotional train set offered by TYCO in the mid 1980s. This promotional set was powered by a Western Maryland 0-6-0 steam engine pulling three freight cars and a caboose.

The unique piece in the set is the Wilson Foods Box Car. The version pictured above is one of two known to exist for the Wilson Foods 50' Box Car. Besides the red 50' Plug Door Box Car with the Wilson Foods logo and the Corn King logo, there is second car. The second Box Car is also red and a 50' Plug Door, but in place of the Corn King logo this other car features a blue Wilson Foods ribbon logo. Regardless of the style of Box Car included, the set appears to always carry the 7623Q TYCO train set number.
The other rolling stock and the locomotive were regular items in the TYCO product line. Besides the Western Maryland 0-6-0 steamer, this set included a 40' Stock Car in the 'Laramie' roadname; a 40' Gondola in 'Union Pacific' and finally the Steamline Caboose in TYCO's generic red with white stripes scheme.

The set also included TYCO's standard train set power pak, a circle of track, and instruction and warranty sheets.
Quaker Train Set
(No.?)

No train set contents or stock number information is available for the Quaker set. The Box Car is TYCO's 50' Plug Door and appears cast white with blue stamped lettering. The Quaker Tank Car is TYCO's 40' Chemical Tanker. No mint complete example has been examined and again no info is available regarding what loco might have headed up this set. The two Quaker painted cars are the only known items unique and/or exclusive to this set. Best guess is early/mid 1970s availability.
Shop Rite Supermarkets Train Set
(No.7559)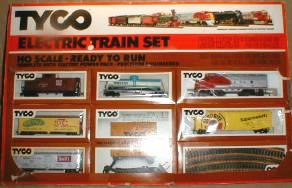 Stokley Van Camp Train Set
(No. ?)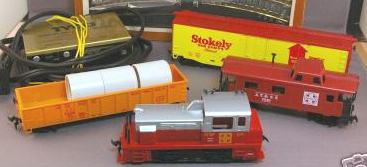 Year of release is not confirmed on this set. The contents shown in picture is also not confirmed to the exact make up of the Stokley Van Camp promotional train set. The one unique piece in the set is the yellow and red 50' Plug Door Box Car carrying the Stokley name. Can't confirm it to date, but I have seen refernce to the Stokley 50ft. Box Car as possibly carrying TYCO stock number 339-H.
eBay auction image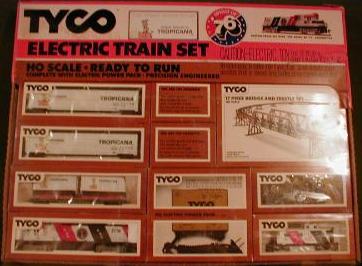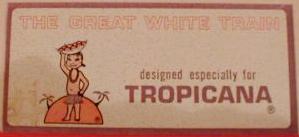 The Great White Train Tropicana
(No.????)
Don't have all the facts regarding this promotional train set, however it is my understanding this was offered in conjunction with a southern grocery store chain. The train set was similar to TYCO's Spirit of '76 Over & Under and included the Century 430 in 1776 dress. The unique items for The Tropicana set included a pair of Tropicana Trailers sitting on a standard TYCO 50' green Santa Fe Flat Car and a pair of 62' Express Reefers decorated for Tropicana with white sides and green roof and ends. As seen in the pictures above the set package included a sticker that read The Great White Train designed for Tropicana. Pictures courtesy Paul Slavens.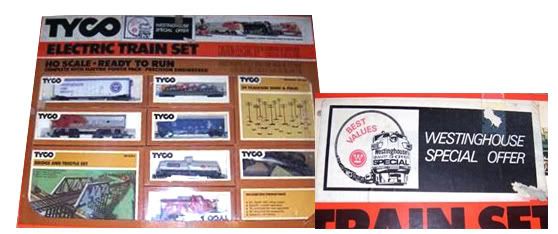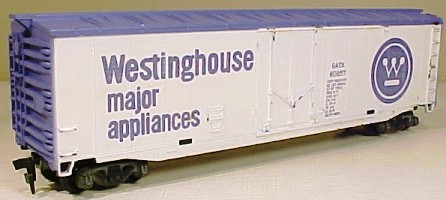 Westinghouse Train Set
(No.7519)
Though I don't have much information on this set, it does appear that TYCO produced a promotional train set labeled for Westinghouse. The 50' Plug Door Box Car lettered Westinghouse and painted blue and white seen above is apparently the only unique item generated for this offering. Have seen reference to the Westinghouse Box Car as being TYCO stock number 339-K, however this is not confirmed. In addition to this Box Car, I have seen a Bridge and Trestle Set box marked for use in a Westinghouse set.
eBay auction image
Whirlpool Train Set
Beyond the TYCO 50' Whirlpool Box Car (No.339-G), seen above, no further information is known on what appears to have been a promotional train set offered by Whirlpool.