Industrial Switcher
Bell Telephone
No. T227-G -1962 Release
Industrial Switcher
General Electric
No. T227-C -1962 Release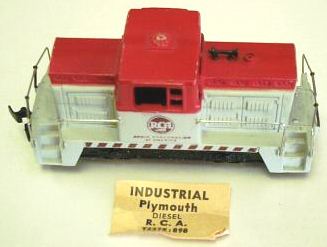 Industrial Switcher
RCA
No. T227-E -1962 Release
Industrial Switcher
Republic Steel
No. T227-A -1960 Release
Industrial Switcher
Santa Fe
No. T227-H -1963 Release

Industrial Switcher
U.S. Steel
No. T227-F -1962 Release
Industrial Switcher
Union Pacific
No. T227-B -1961 Release
Industrial Switcher
Westinghouse
No. T227-D -1962 Release
A review of this model may be found in the March 1962 issue of Model Railroader. The loco is reviewed under the Mantua name, but the switcher is stated as being ready to run with only handrail installation required.
Retail Price for the Industrial Diesel in 1960, 1961, 1962-63, and 1963-64 was $6.98. Retail moves to $7.98 in the 1965-66 catalog and remains there for the 1966-67 catalog. The 1967-68 catalog lists this diesel with a $8.98 retail.
The Industrial Diesel disappears from the TYCO line and is it not found during the Brown Box Era of the 1970s and later. Mantua does bring back this model in its line of products after 1978.
Though most TYCO diesels were also available in kit form, the Industrial Switcher was not produced as a kit.