Accessories
Operating Dual Crossing Gates
No. 5602
A similar offering was included in the Model Power line, HO Crossing Gate (No. 4161), during the same period this item was present in AHM's line.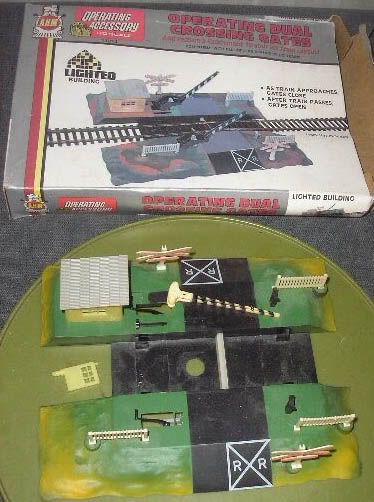 Accessories
Operating Dual Crossing Gates with Lighted Building
No. 11014
AHM's 1981 catalog presents a revised version of the Dual Crossing Gates accessory that was originally offered by the company in the '70s. Perhaps an attempt to more closely resemble an American railroad crossing, white crossing bucks with red raised lettering are added, plus black and white gates similar in design to the TYCO crossing gate arms are present. The highway is now black with white railroad crossing warnings. The building included on the base becomes lighted in this '80s reinvention.