This is a site devoted to ATLAS HO-scale locomotives produced in the 1970s. It is intended for use by the mildly curious to serious collector. Information presented is taken from catalogs and products produced by ATLAS for the HO-scale model railroad market.

Please review the links across the top of the page and select an item of interest from the ATLAS 1970s locomotive line.

This exciting group of EMD diesels represents the first HO-scale locos to be available under the ATLAS name. They were imported from Austria and built by ROCO. The six different models were ushered into the market in quick order in a little over one year, beginning in 1975. The original retail price was $25 per unit.

This group of ATLAS locos remained avilable with minor exceptions until the early '80s. The most recently offered piece from this set is the FP-7, which ATLAS offered last in the late '80s.

Following ATLAS' offering, CON-COR imported the majority of these locos again from ROCO in Austria. Later runs from CON-COR feature Mexican drives with shells produced in the U.S. CON-COR also offered roadnames that were not available from ATLAS for these diesels.

More recently, E&R Models has offered an FP-7 which appears to be made from the same molds as the ROCO/ATLAS/CON-COR unit.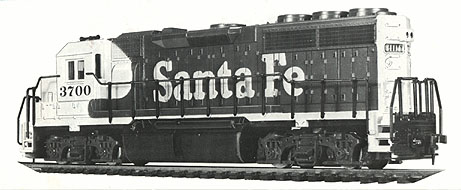 The Santa Fe GP-40 from ATLAS' 1975 group of HO-scale diesel locomotives. Though Santa Fe did have one GP-40 in its roster, it didn't have it in 1975 when this model was released. Santa Fe's only GP-40 came from the acquisition of the TP&W in 1983.