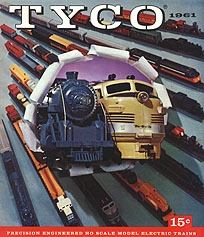 TYCO's 1961 annual product catalog brings the, "new lighted low profile GP-20 Diesel" to the line. The only GP-20 shown for '61 appears to a be handmade prototype dressed in Illinois Central's black Green Diamond scheme. TYCO would not end up producing the GP-20 in this paint job.
The final page of the 1961 features the Civil War train sets.
You may click on any of the thumbnail images found to the right to open a large version of that catalog page for best viewing.