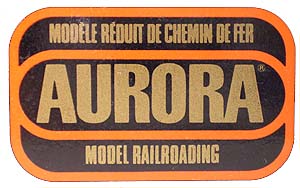 AURORA HO-Scale Model Trains?
One story often told relating to the origin of the Pemco line is that Aurora was planning entry into the HO-scale R-T-R train market in the late 1970s. Aurora is well known for its various model kits, slot cars, and offered a line of N-scale model trains in the late 1960s. The company has in the past offered HO-scale accessories in the form of building kits, but has never offered HO-scale trains in the U.S.
Apparently, Aurora decided against entering the American HO-scale train market or was in the midst of some financial situation that prevented this expansion into HO-trains. Though HO-scale trains boxed in the black-and-gold packaging that you find Pemco trains has been found bearing the Aurora name and logo. These items also carrying both English and French labeling and are known to have been sold in Canada around the same time the Pemco line arrived in America.
Research indicates Pemco may have had a marketing arrangement with Aurora for distribution of the Pemco train line in Canada and the items were packaged with Aurora's Aurora name. See the accompanying page illustrating Aurora items on this website.