0-4-0 Yard Goat
Baltimore & Ohio
No. 335-025 -1986 Release
0-4-0 Yard Goat
Central Railroad of New Jersey
No. 335-024 -1985 Release

0-4-0 Yard Goat
Lehigh & Hudson River
No. 335-033 -1985 Release
0-4-0 Yard Goat
New England
No. 335-129 -1986 Release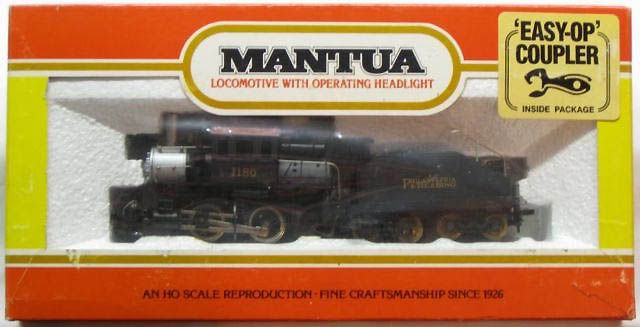 0-4-0 Yard Goat
Philadelphia & Reading
No. 335-020 -1985 Release
0-4-0 Yard Goat
Reading
No. 335-021 -1985 Release RDG #1147
No. 335-521 -1997 Release with MC-94 Can Motor RDG #1147
No. 335-621 -2001 Release with MC-94 Can Motor RDG #1240
0-4-0 Yard Goat
Southern Pacific
No. 335-011 -1986 Release
0-4-0 Yard Goat
Undecorated Kit
No. 535 -1985 Release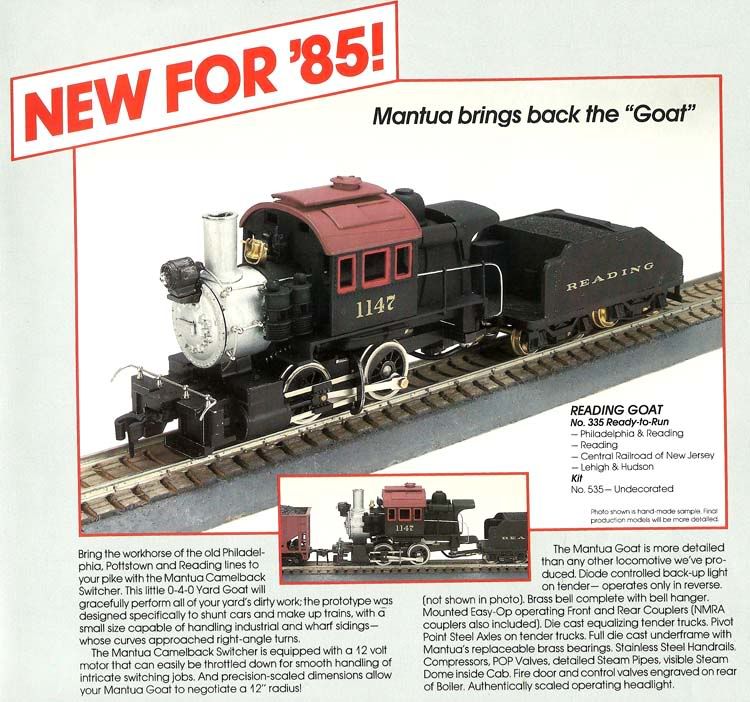 New for 1985 was the ready to run Mantua 0-4-0 Yard Goat. The model is a Camelback Switcher prototype and was promoted by Mantua in the company's 1985 catalog as, "more detailed than any other locomotive we've produced." The catalog also states, "The Mantua Goat is welcomed back; it's one of the most popular 0-4-0 Yard Switchers in the history of HO scale." Mantua presented the Goat in four roadnames for its '85 introduction: Philadephia & Reading, Reading, Central Railroad of New Jersey, and Lehigh & Hudson. An Undecorated kit was also offered. The 1986 retail for the fully assembled Goat was $69; the kit sold for $55.

Sharing the Goat's tooling was sister steamer, the B-8-a Switcher. As you see, the difference was in the drivers. The B-8-a featured an 0-6-0 arrangement, compared to the Goat's 0-4-0. Mantua's HO-scale B-8-a Switcher would be seen in annual product catalogs more often than the Goat. The Goat disappears follwing its 1989 appearance and doesn't return until 1997. The Goat then rides out the final years of Mantua production, until the Model Power purchase in 2002.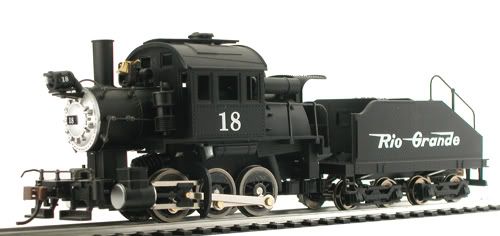 In recent years, under Model Power ownership, the Goat has returned with enhancements and is part of the Mantua Classics line. The 21st century Goat model included improved electrical pickup, plus a 9-pin socket to accept a DCC decoder. Mantua Classics roadnames include: Reading #1354, Santa Fe, Southern, Rio Grande and Undecorated. All are fully assembled and ready to run offerings. For additional information and images, see: Mantua Classics at Model Power's website.
Mantua introduces the Goat Steam Engine kit in the spring of 1939. For $15 the kit was available and Mantua claimed, "can be assembled by anyone in 3 hours."