Camelback & Tender 2-8-2 Steam Engine
Atlantic Coast Line
No. 322-47 -1980 Release
Camelback & Tender 2-8-2 Steam Engine
Canadian Pacific
No. 322-80 -1980 Release
Camelback & Tender 2-8-2 Steam Engine
Central New Jersey
No. 322-34 -1980 Release
Camelback & Tender 2-8-2 Steam Engine
Chicago & Eastern Illinois
No. 322-72 -1980 Release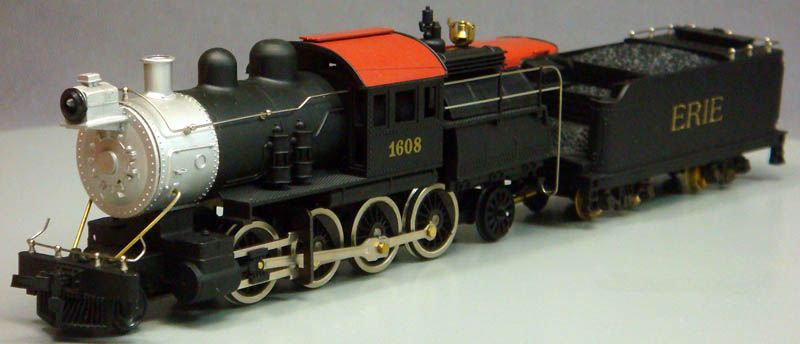 Camelback & Tender 2-8-2 Steam Engine
Erie
No. 322-30 -1980 Release
Camelback & Tender 2-8-2 Steam Engine
Great Northern
No. 322-61 -1980 Release
Camelback & Tender 2-8-2 Steam Engine
New York Central
No. 322-22 -1980 Release
Camelback & Tender 2-8-2 Steam Engine
Pennsylvania
No. 322-20 -1980 Release

Camelback & Tender 2-8-2 Steam Engine
Reading
No. 322-21 -1980 Release
Camelback & Tender 2-8-2 Steam Engine
Southern
No. 322-40 -1980 Release
Camelback & Tender 2-8-2 Steam Engine
Southern Pacific
No. 322-11 -1980 Release
Camelback & Tender 2-8-2 Steam Engine
Union Pacific
No. 322-03 -1980 Release
Camelback & Tender 2-8-2 Steam Engine
Undecorated Kit
No. 522 -1980 Release

The 1980 Mantua catalog includes a new release Camelback 2-8-2 Steam Engine. A dozen roadnames are included in Mantua's intial offering: Union Pacific, Southern Pacific, Pennsylvania, Reading, New York Central, Erie, Central New Jersey, Southern Railway, Atlantic Coast Line, Great Northern, Chicago & Eastern Illinois, and Canadian Pacific. Mantua also offering an Undecorated Camelback kit in 1980 for the model's introdcution. The kit version of the Camelback retailed for $59 in 1980. The fully assembled and decoarted examples had a retail of $70 in 1980.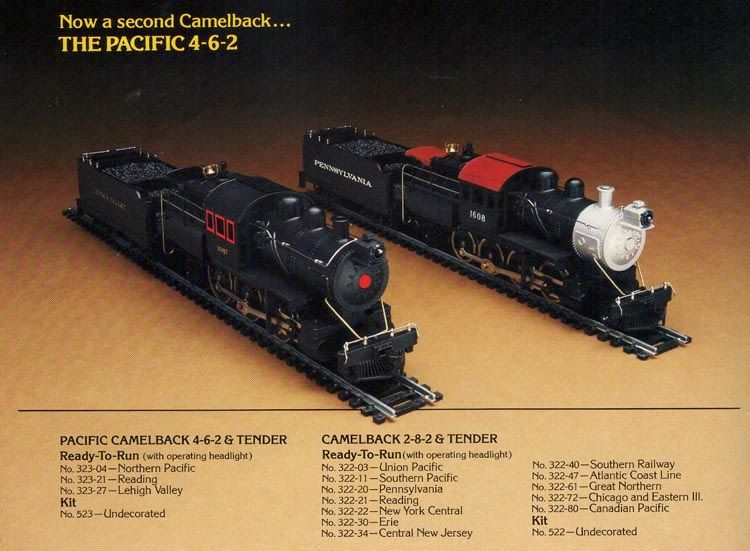 In 1981, Mantua adds a Pacific Camelback to the line of HO-scale steam engines. The Pacific featured a 4-6-2 wheel arrangement. The original Camelback rode on a 2-8-2 set of drivers.
Mantua's Camelback Switcher was introduced in kit form in 1939 and price back then at $15. Mantua promoted the model as, "The best scale model Locomotive ever placed on the market."