Spirit of '76 State Box Car
State of Connecticut
No. 6-7605 -1975 Release
Spirit of '76 State Box Car
State of Delaware
No. 6-7601 -1974 Release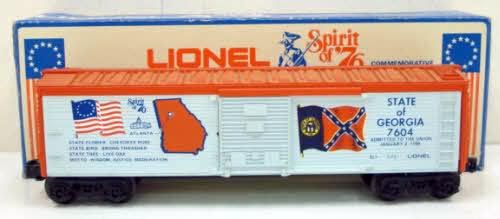 Spirit of '76 State Box Car
State of Georgia
No. 6-7604 -1975 Release
Spirit of '76 State Box Car
State of Maryland
No. 6-7607 -1975 Release
Spirit of '76 State Box Car
State of Massachusetts
No. 6-7606 -1975 Release
Spirit of '76 State Box Car
State of New Hampshire
No. 6-7609 -1976 Release
Spirit of '76 State Box Car
State of New Jersey
No. 6-7602 -1974 Release
Spirit of '76 State Box Car
State of New York
No. 6-7611 -1976 Release
Spirit of '76 State Box Car
State of North Carolina
No. 6-7612 -1976 Release

Spirit of '76 State Box Car
State of Pennsylvania
No. 6-7603 -1974 Release
Spirit of '76 State Box Car
State of Rhode Island
No. 6-7613 -1976 Release
Spirit of '76 State Box Car
State of South Carolina
No. 6-7608 -1976 Release
Spirit of '76 State Box Car
State of Virginia
No. 6-7610 -1976 Release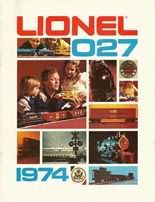 Bicentennial fever strikes in the early 1970s for both railroads and model railroad makers. Lionel joins the Spirit of '76 in the company's 1974 catalog with a Commemorative Series of releases. The Spirit of '76 State Box Car Series is launched in '74 with a trio of early entrants to the United States: State of Delaware (No. 6-7601), State of Pennsylvania (No. 6-7601) and State of New Jersey (No. 6-7603). The 1974 Lionel O27 catalog states the Spirit of '76 State Box Car Series will include thirteen by 1976. The then-new tooling U36B debuts in 1974 with Seaboard Coast Line #1776 (No. 6-1776) diesel and the Spirit of '76 Illuminated Caboose (No. 6-7600) round out the red white and blue releases.
The second group in the series arrives in 1975 and included box cars for four more states: Connecticut, Massachusetts, Georgia, and Maryland.
The final six states join the Lionel Spirit of '76 series in 1976: South Carolina, New Hampshire, Virginia, New York, North Carolina, Rhode Island.