Billboard Reefers
A & P
No. 6-9875 -1978 Release
Billboard Reefers
Arm and Hammer
No. 6-9812 -1980 Release

Billboard Reefers
Baby Ruth
No. 6-9854 -1973 Release
Billboard Reefers
Bazooka Bubble Gum
No. 6-9817 -1980 Release
Billboard Reefers
Brach's Candies
No. 6-9816 -1980 Release

Billboard Reefers
Budweiser
No. 6-9850 -1973 Release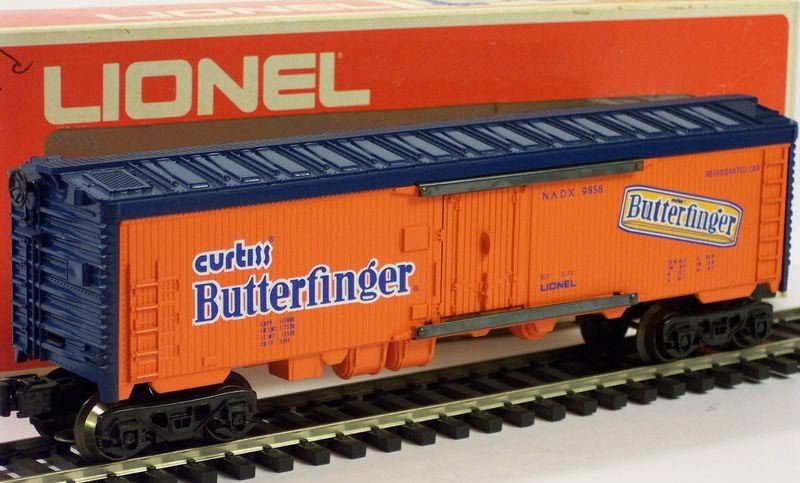 Billboard Reefers
Butterfinger
No. 6-9858 -1974 Release

Billboard Reefers
Carlings Black Label
No. 6-9871 -1977 Release
Billboard Reefers
Coors
No. 6-9866 -1976 Release

Billboard Reefers
Cracker Jack
No. 6-9853 -1973 Release
Billboard Reefers
Fritos
No. 6-9884 -1981 Release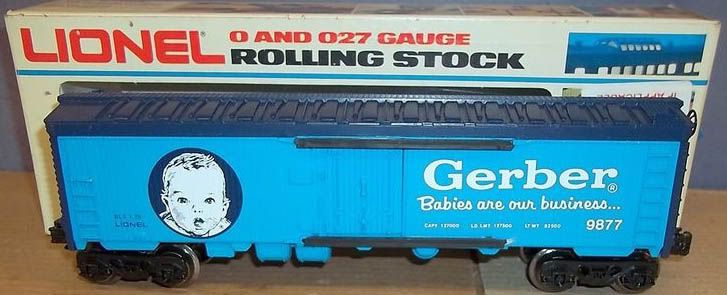 Billboard Reefers
Gerber Foods
No. 6-9877 -1979 Release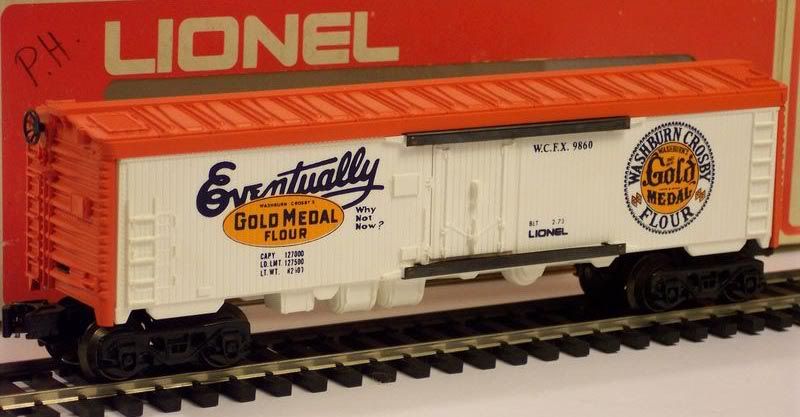 Billboard Reefers
Gold Medal
No. 6-9860 -1974 Release
Billboard Reefers
Good and Plenty
No. 6-9878 -1979 Release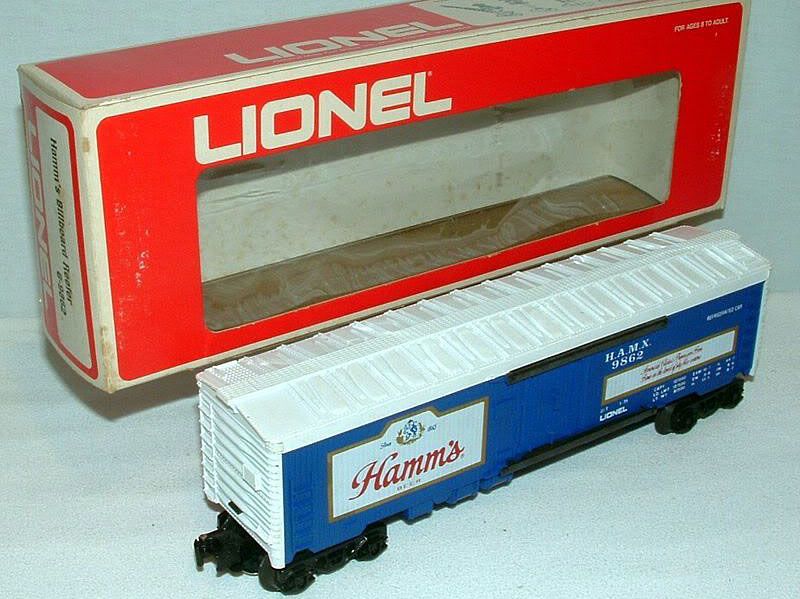 Billboard Reefers
Hamm's
No. 6-9862 -1975 Release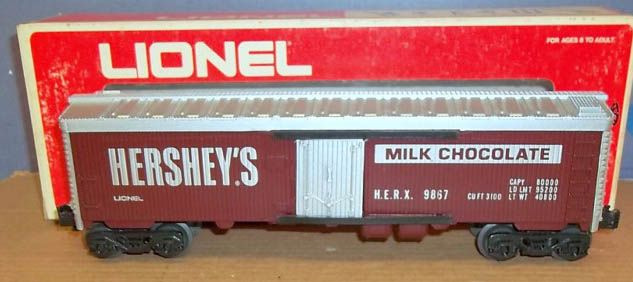 Billboard Reefers
Hershey
No. 6-9867 -1976 Release
Billboard Reefers
Hills Bros. Coffee
No. 6-9879 -1979 Release
Billboard Reefers
Lipton Tea
No. 6-9885 -1981 Release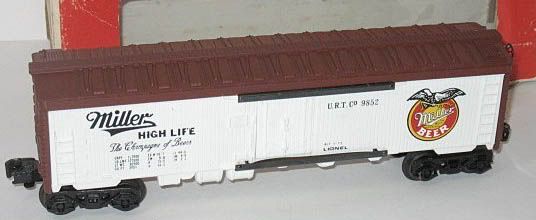 Billboard Reefers
Miller
No. 6-9852 -1973 Release
Billboard Reefers
Miller Lite
No. 6-9874 -1978 Release
Billboard Reefers
Mounds Candy
No. 6-9886 -1981 Release
Billboard Reefers
Nabisco Oreo
No. 6-9883 -1978 Release
Billboard Reefers
Old Dutch Cleanser
No. 6-9870 -1977 Release

Billboard Reefers
Old Milwaukee
No. 6-9856 -1975 Release
Billboard Reefers
Pabst
No. 6-9859 -1974 Release

Billboard Reefers
Pacific Fruit Express
No. 6-9872 -1977 Release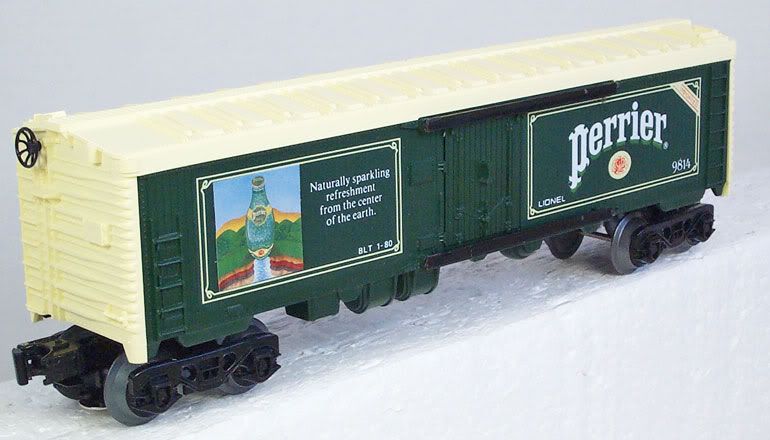 Billboard Reefers
Perrier
No. 6-9814 -1980 Release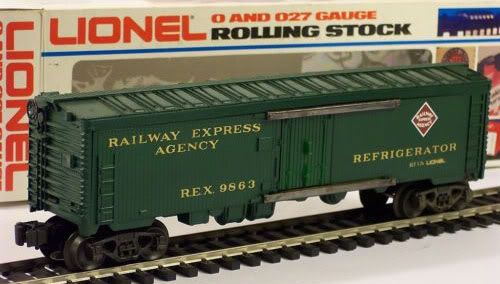 Billboard Reefers
Railway Express
No. 6-9863 -1975 Release
Billboard Reefers
Ralston Purina
No. 6-9873 -1978 Release
Billboard Reefers
Ruffles Potato Chips
No. 6-9813 -1980 Release

Billboard Reefers
Schlitz
No. 6-9851 -1973 Release

Billboard Reefers
Swift's & Co.
No. 6-9855 -1973 Release

Billboard Reefers
Tropicana
No. 6-9861 -1976 Release
Six Billboard Reefers are included in Lionel's O/O27 1973 catalog: Baby Ruth, Budweiser, Cracker Jack, Miller, Schlitz and Swift's & Co. For their second year in the Lionel catalog 1974, three additional names join the Billboard Reefer collection: Butterfinger, Gold Medal and Pabst. Three more names are found beginning in 1975: Old Milwaukee, Hamm's and Railway Express. In 1976, three additional names arrive: Coors, Hershey's and Tropicana. The 1977 Lionel catalog introduces three more names to the Billboard Reefers: Old Dutch Cleanser, Carlings Black Label and Pacific Fruit Express. A&P, Miller Lite and Ralton Purina are three new entries in the series in 1978. For 1979, Hills Bros. Coffee, Gerber Foods, Good and Plenty and Oreo are new names in the reefer series. This popular series received five new names in 1980: Perrier, Arm and Hammer, Ruffles Potato Chips and Bazooka Bubble Gum. Three Billboard Reefers are included in 1981: Lipton Tea, Mounds Candy and Fritos.