K&O Models
"Hobo" F7-A
HO-Scale Battery Operated
Diesel Locomotive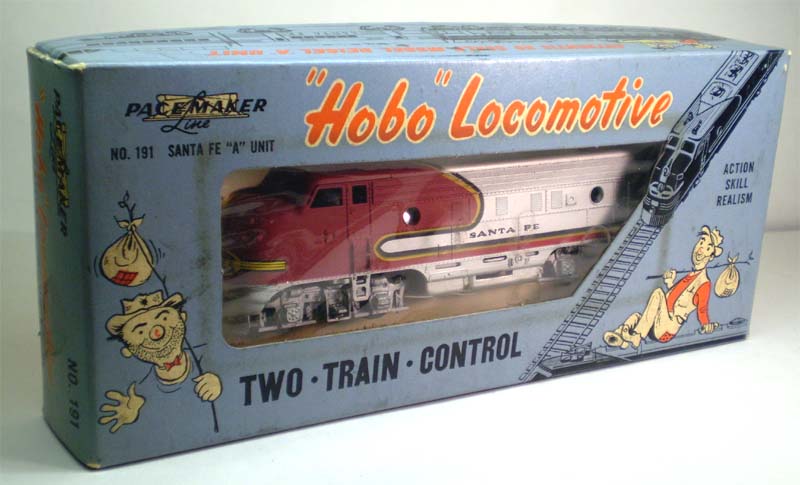 DCC for the Stone Age???
Here's one you don't see everyday and may have never seen before, the "Hobo" F7-A diesel locomotive model. Operated by a pair of C-batteries, this F7-A complete with rubber wheels would zip around your pike independently of your other engines, that would be drawing power and direction from your power pack. This would allow you to have two trains running in opposite directions of each other. In today's world, the concept of being able to run two trains in opposite directions on the same layout doesn't seem like much of a miracle. In the "Hobo" F7's day however, it was a feat.
The box states this HO-scale diesel is part of the Pacemaker Line distributed by K&O Models of Van Nuys, California. The box states this is stock number 191. The instruction sheet provides catalogue #191-2. A long-time model railroader that I had inspect this piece stated he recalled that they had a Union Pacific F7-A too. Below you'll see a picture of the Pennsylvania Railroad (No.192) example.
The actual age of this release is not known by me. I've searched through magazines for a reference to the "Hobo" F7-A and have not to date found anything. My estimate would be this dates to the mid-1950s.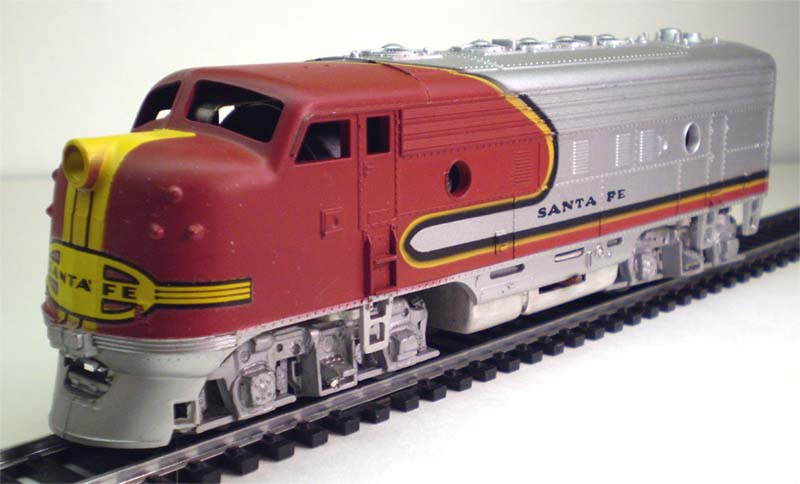 A review of this F-7A shell suggests that it is an early Athearn example possibly. Notice the numberboards are separate pieces mounted to the nipples on the unit's nose. The single-headlight has a solid back and thus the model runs without lighting as delivered.
The exact origination of this shell is not confirmed. Could it be a clone of the Athearn F-7A shell or did K&O purchase shells from Athearn?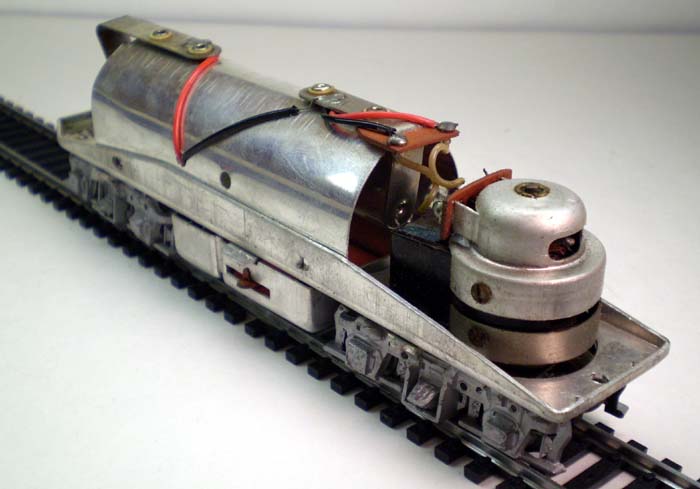 Here's the "Hobo" F-7A underframe's rear end. The unit's motor is mounted over the rear truck. The round housing down the center would hold the pair of batteries. To get her rolling, one need only flip the red switch protruding from the middle portion of the fuel tank area.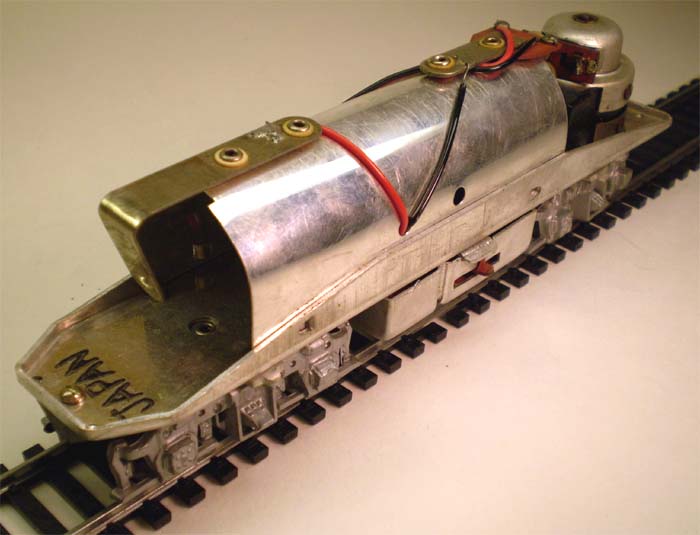 Looking at the underframe from the head, there's no speculating the origin of the "Hobo" mechanics. JAPAN is stamped on the front section of the underframe. The same place that provided so much excellent quality brass over the years may also be credited with giving the hobby world this gem.